Irrigation maintenance programs
Already have a system installed? Talk to us about integrating the maintenance of your irrigation system with our lawn care program. With services like seasonal start-ups and shutdowns, and mid-season adjustments as needed, we'll keep everything working at its best!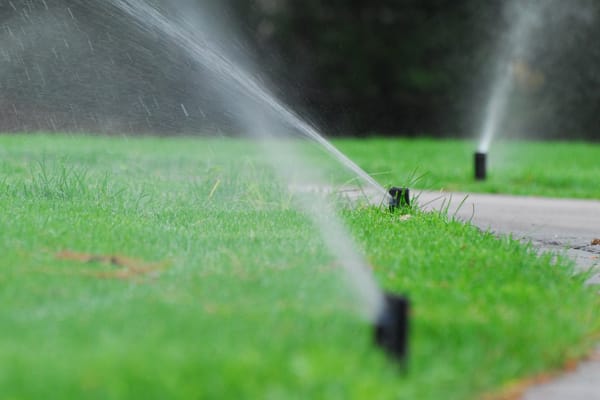 Why water?
Apart from the sun itself, water is one of the most important ingredients for the health of your lawn. Turf Systems understands what it needs. Think of us as the ones that will take care of everything to make your yard its healthiest and greenest. We're the green and blue together – giving just the right water to produce just the right grass in your yard.
Lush, green grass, the easy way
An automatic irrigation system is the easy answer to lush, green grass with the least amount of your time and effort. Automatic systems water more efficiently than manual watering because they're designed to give the correct amount of water for specific areas, so in the long run they'll save you money as well as time!
We design our systems to water all the growing areas on your property, with all their varying needs – from lawns to hanging containers to garden beds. We start by coming out to your property to assess your plant life, light conditions, soil types, and your own preferences. Systems are set up to suit both your yard and the amount of monitoring you want to do. From fully automatic to semi-manual, control centres can take care of as much of the scheduling and regulation as you prefer. Systems can usually be installed within two days, and we are always careful to leave your landscape as we found it.
From the lawn health people
Having your irrigation system installed and maintained by the same people that take care of your lawn makes good sense. We're the people that know exactly what grass and gardens need to be healthy and beautiful. We use trusted products, like Rainbird and Hunter, to make sure your system is an investment that will continue to payoff for years to come.